On Saturday 20th August at the Portobello Film Festival just outside central London, Quondam was screened publicly once again. Director Andrew Davidson and Executive-Producer Tom Reynolds were in attendance.
Unlike the other screenings and festivals that Quondam has been involved in since it's completion in March 2004, the Portobello Film Festival screened hundreds of films in a very low key manner. In a week when the Edinburgh Film Festival is creating n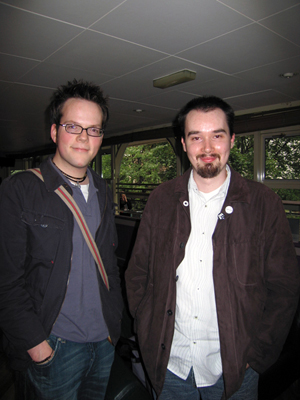 ational headlines, the Portobello Film Festival happily gets on with it's job of screening all that there is in film-making today. The festival covers screenings of major new releases such as Thomas Vinterberg's Dear Wendy to a day of short films. Which is where Quondam came in.
Screening as part of the 'All Day Funky Fast Shorts' programme, Quondam was shown to a crowd of some 30-40 people in a darkened bar in Portobello. Starting at 2pm the programme was scheduled to continue for 9 hours with Quondam being the 19th film screened at just before 5pm.
The film's Director Andrew Davidson along with Executive-producer Tom Reynolds attended the event, sitting through countless short films waiting for Quondam. An unease seemed to fall over the audience during the screening as the film explored the broken mind of central character Jack.
Seemingly as fast it it had started it was over and the next film began. Andrew Davidson's particular highlight was a film screened immediately before Quondam entitled Home Video by director Edward Boase.
The event was considered a success by those in attendance and that it was nice to see Quondam screened again. Tom and Andrew also enjoyed catching up on old times, as they had not seen each other since the JVC Awards in December 2003, and reminiscing about the films they had made together in the past.